Welcome to St Paul's Parish
A Parish of the Roman Catholic Diocese of Scranton, Pennsylvania
St. Paul's Parish is a faith community located in Scranton PA since 1887. Our parish family embraces people of every age, race, culture and social background. Singles, families, old and young - all are welcome to share our faith in God and to serve one another in the spirit of the

Gospel

St. Paul Church
1510 Penn Ave., Scranton, PA
570-961-1549
DUE TO THE DIRECTIVES OF BIHOP BAMBERA AD THE SAFETY
OF OUR PARISHIONERS ST. PAUL CHURCH WILL BE CLOSED
UNTIL FURTHER NOTICE
St. Paul Church Holy Week Live Streamed Mass schedule
Holy Thursday 7:00 PM
Good Friday 12:00 Noon
Holy Saturday 8:00 PM
Easter Sunday 10:00 AM
To view our live streamed mass on Facebook, "like" St. Paul's Parish.
A Message From Monsignor Van Loon
My dear friends,
I have wanted to reach out to you during this time of the coronavirus to assure you of my concern for your wellbeing and let you know that you are being held in prayer each day as I celebrate mass privately for your intentions and safety. We certainly live in unprecedented times and the horror of this pandemic is unsettling at best. As we approach an uncertain future who would have thought the best way of supporting one another would have been to stay apart.
One of casualties of social distancing has been our inability to gather for our weekly celebration of the Eucharist and now as we look toward Holy Week and Easter we realize that too will have to be celebrated from a distance. We have been live streaming a weekly liturgy at 4:30 each Saturday afternoon on Facebook (Saint Paul's Parish) and will live stream the Rites of Holy Week as well. We encourage you to tune in to these solemn liturgies: Evening Mass of the Lord's Supper, 7:00 pm on Thursday; Passion of the Lord, noon on Friday; The Easter Vigil, 8:00 pm on Saturday and Easter Sunday at 10:00 am.
Although we made a valiant attempt to keep our Food Pantry going we made the difficult decision to close it today out of a serious concern for our workers. Our parish religious education program have been suspended and the celebration of Confirmation and First Communion has been postponed until a date can be confirmed. We continue to publish our weekly bulletin and post it on our parish Website (stpaulscranton.org) along with posting other important announcements concerning the parish or the Diocese of Scranton that might be of interest to you. The parish office remains closed though operating remotely. Meanwhile we continue to be present to you as best we can through parish e-mail, info@stpaulscranton.org and phone 570-961-1549. We are available for emergencies 24/7 at the parish number.
The life and work of the Church and Parish continues, though differently for different times but we will re-emerge again and hopefully in the not too distant future. I hope you will not find me insensitive in asking you who are able to consider making your parish share contribution online or by mailing your gift to us at the rectory. Your contribution will help us pay immediate utility and other monthly bills and to pay the reduced staff who continue to ensure the continuance of the daily parish operations. I am most grateful to those who have continued your weekly donations by mail and on line.
And now, as we reconstitute ourselves as believing Christians in the Paschal Mystery of Our Lord in this time of the great pandemic, I want to leave you with the words of Saint John Paul II: "There is no cross to bear that Christ has not already borne for us, and does not now bear with us …"
With every best wish and blessing I remain
Sincerely yours in Christ,
Reverend Monsignor Neil J. Van Loon, V.F.
Pastor
FOOD PANTRY - CLOSED
Due to COVID-19 and Governor Wolf's directives the Food Pantry will be closed until further notice. Thank you to all our volunteers and those that donated during this difficult time!
CONFIRMATION & COMMUNION
Notice to our families, In compliance with the directive by President Trump and Governor Wolf as per the "stay at home" directive until 4/30/2020 and the ongoing concern and directive of Bishop Bambera that our worship sites will remain closed to public reception of the sacraments so that we can wait until a safer time for public gatherings, please consider BOTH the Sacraments of Confirmation on 4/24 and Communion on 5/2 as being postponed until further instructions come from the Diocese on when worship sites are safe to reopen for public services. When that happens, we will address and come up with a timetable as to when these important Sacraments can be safely administered as they happen with large groups of people in attendance. We thank you for your understanding during this ever evolving and changing dynamic we are experiencing with this medical crisis.
A MESSAGE FROM BISHOP BAMBERA
Dear Friends in Christ,
This is a time of great challenge in our world. My prayers are with you and your family as we deal with these uncertain times. We especially pray for those who are personally impacted by the spread of COVID-19 and for all those who are providing care and helping to reduce the risk.
While we are all facing difficulties as a result of this global health emergency, I am encouraged to see so many people reaching out in support of our families, our neighbors and our parishes.
Due to the suspension of Masses, which was necessary to protect the health and safety of our community, our parishes now face increased risks of financial shortfalls and may struggle to pay bills and provide services. Many parishioners throughout our Diocese have already recognized the impact of the Coronavirus crisis and have committed to give what they can to support their parishes. Thank you for your kind generosity.
I certainly understand the financial challenges all of our families are facing and recognize that not everyone will be able to support their parish as they would like at this time. If you are in a position to do so, I would ask you to consider doing whatever you can for your parish so that it can remain strong in service to you and your family and all of our parishioners.
You may give to your parish by mailing your weekly offering or by giving online if your parish has an online giving opportunity. If your parish does not currently have online giving, to make it easier for you to keep up with your weekly parish offering, the Diocese has added a new online giving opportunity at www.dioceseofscranton.org/supportyourparish to provide you with another way to make a gift that will go directly to your parish. Our parishes are at the center of our faith life and your support is deeply appreciated by your pastor and by me.
In this special year of Saint Joseph in our Diocese, may we seek his powerful intercession to safely guard the Church from all evils, just as he protected the Holy Family from harm. Saint Joseph, our guide and patron, pray for us.
Faithfully yours in Christ,
†Joseph C. Bambera
Most Reverend Joseph C. Bambera, D.D., J.C.L.
Bishop of Scranton
PERFECT CONTRITION
With the increasing difficulty for individuals to receive the Sacrament of Reconciliation due to the current health crisis, the faithful of the Diocese of Scranton are reminded that by having perfect contrition one can receive the forgiveness of sins, apart from going to confession.
Perfect contrition requires the following three things:
· A love of God above all else
· A sincere desire for the forgiveness from sin
The resolution to go to confession as soon as possible when this health crisis subsides
PLENARY INDULGENCE
His Holiness, Pope Francis, has also granted a plenary indulgence under specific conditions.
The faithful who qualify for a plenary indulgence during the coronavirus pandemic:
· Those suffering from the coronavirus illness
Health care workers, family members, and others caring for those with the coronavirus (exposing themselves to the virus)
The faithful must do at least one of the following:
· Unite yourself spiritually through the media in the celebration of the Holy Mass
· Recite the Rosary
· Pious practice of the Way of the Cross (or other forms of devotion)
Recite the Creed, the Lord's Prayer, and a Hail Mary
The faithful must be willing to perform all of the following as soon as possible: (considered the three usual conditions for a plenary indulgence)
· Going to Confession
· Receiving Holy Communion
· Praying for the intentions of Pope Francis
Prayer for Spiritual Communion
When participating in the Mass at home through media, consider offering this prayer attributed to St. Alphonsus Ligouri during Holy Communion: My Jesus, I believe that you are present in the most Blessed Sacrament. I love you above all things and I desire to receive you into my soul. Since I cannot now receive you sacramentally, come at least spiritually into my heart. I embrace you as if you were already there, and unite myself wholly to you. Never permit me to be separated from you. Amen.
Bishop Bambera's Pastoral can be found at:
https://www.dioceseofscranton.org/wp-content/uploads/2018/11/BishopBamberaPastoralLetter-FINAL-062711.pdf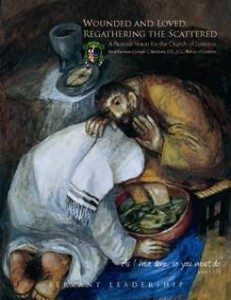 ANNUAL APPEAL VIDEO LINK
Lackawanna/Wyoming Counties
password: diocese